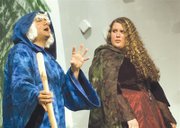 TOPPENISH - A six-night run of the musical "Rapunzel" kicks off next Monday, Aug. 22, at the Yakama Nation Heritage Theater. Performances are slated for 7 p.m. each of the six nights.
Staged by the Toppenish Creek Players, the play includes a cast of nine. The lead role of Rapunzel is being taken on by Selah High School student Kaydee Weddle.
She is one of three prep thespians to have landed roles in the production. The two other high school actors are Zillah's Tyler Nelson in the role of the prince and Jim Myers of Zillah, who plays the part of a member of the royal entourage.
The original script, lyrics and score of "Rapunzel" were pieced together by Mary and Regan Ryzuk. The play is abundant with rich humor and music.
The story line of the play focuses on an old witch who catches a farmer stealing from her garden, who allows him to escape when he promises to give her his firstborn child. Thinking his wife is barren, he agrees. Not long after, though, Rapunzel is born to the couple and the witch imprisons the child in a tower. Rapunzel eventually grows into a beautiful, young woman.
A handsome prince ends up wooing Rapunzel. This infuriates the witch, until a warlock promises her they can have a child of their own.
The ending...well, you'll have to sit in one of the six nights the play will be staged at the Toppenish theater to find out for yourself.
There is a guarantee, however. The luminous music and lyrics are beautifully accessible to children, yet sophisticated enough to charm the most discerning adult palate.
The other key cast member in the Toppenish Creek Players' production is Megan Kluever of Zillah as the old witch.
Also to appear on stage are Phil Davis of Zillah and Anita Hoeye of Terrace Heights as Rapunzel's parents, Kaylyn Gunnier of Zillah as the narrator, Nate Bushman as the warlock, and Virgil Newman of Granger and Tom Stegeman of Wapato as royal entourage members.
Toppenish's Ginny Wells is serving as the director of the two-act play.
Production dates, with the curtain going up at 7 p.m. each evening, are Aug. 22, 23 and 24, and Aug. 29, 30 and 31.