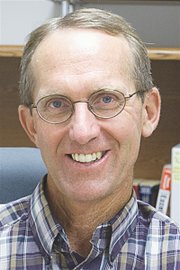 Jed Crowther is the new property development and project manager at the Port of Sunnyside.
He lives on a farm near Mesa and was the community development coordinator for the city of Connell for nearly six years before joining the Port of Sunnyside about two weeks ago.
Crowther replaces Jay Hester, who resigned from the post recently.
Crowther said he was drawn to working with a port district after having worked with the Port of Pasco on several projects.
"Ports do amazing things," he said, stating the opportunity to work for the Port of Sunnyside was something he couldn't pass up.
Crowther said the port's history and vision was attractive and he wanted to be part of what he called "the forward progress."
He said there are a few project close-outs on the horizon at the Port of Sunnyside, including the wetlands pilot project.
Crowther is also looking forward to helping the port with its clean-up assessment of the property many in Sunnyside know as the old Carnation milk processing plant.
"I've been busy learning about Golob Landing, the airport and the development of the port's Midvale Road properties," he said.
"Jay (Hester) did a good job of making my transition easy," said Crowther.
He said Hester provided him with a tour of the port's properties and helped him understand the vision of the Port of Sunnyside.
Some of the projects Crowther worked on while working for the city of Connell included a new elementary school set to open at the beginning of the new school year, a 2,048 bed prison expansion and a number of new subdivisions to support employees of the prison, as well as other new residents of the city.
He said there is a difference between working for a city and a port district, but he is acclimating himself to his new duties.
"I want to make a difference here," said Crowther.
"There is a lot to learn where my role and responsibilities are concerned," he added.
Crowther believes his experience will help him, but learning the differences between working for a city and a port, as well as how they are governed will take a little time for adjustment.
He feels the adjustments won't be too difficult because the staff at the Port of Sunnyside is invaluable.
"There seems to be great teamwork here," said Crowther, adding the employees are friendly and knowledgeable.
"They possess a lot of talent."