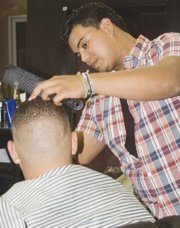 When their current employer wanted a career change; they couldn't help but wonder what would become of their jobs. The crew at Carpelli's Salon in Grandview didn't have to wait long; they packed their bags and shears and moved to Sunnyside.
Dulcenea, a new salon will offer services similar to Carpelli's, including haircuts, coloring and styling, pedicures, facials and tanning. The Sunnyside salon, unlike its Grandview location, will also have an on-site barber and offer manicures. The team of stylists and an esthetician held their grand opening and ribbon cutting Thursday, Aug. 18.
When the team heard the news that their salon owner wanted a career change they convinced their manager, Kristal Cervantes, to consider opening a shop. According to Cervantes, Carpelli's is still open, but plans to close in the coming weeks.
"They told me over and over again to open a salon and 'let us work for you'," she said.
Cervantes said the team of girls is an unusual match.
"It's hard in the salon world to get along with so many women, but we have never had any of that drama," Cervantes said. "We are like a family and we look out for each other."
Two and a half months ago she decided to take on this project and the challenge to find a location began. Originating from Grandview, it was important to begin the search in a similar location, for customer convenience.
"We couldn't find anything in Grandview and then we found this place here; it was a prior beauty school," she added.
Dulcenea officially opened for business Aug. 9 at its 214 S. Sixth St. Sunnyside location inside the downtown mini mall. The 1,725 square foot building began transformation with the help of friends and family.
"We had my entire family and all of the staff's friends and loved ones pitching in," Cervantes said. "We couldn't have done it without them."
The interior design includes Venetian plastered walls and three private rooms for facials and waxing, pedicures and tanning. Additionally, a spacious waiting area with a 51-inch television is provided for the guests. When planning the interior of the salon, the team wanted to provide a place where customers would feel comfortable that would also reflect their personalities.
"We wanted a place where our customers could come and feel at home," Cervantes said.
The salon is open Tuesday through Friday from 10 a.m. to 6 p.m., and on Saturdays from 9 a.m. to 3 p.m. For more information the salon can be reached at (509) 839-5050.