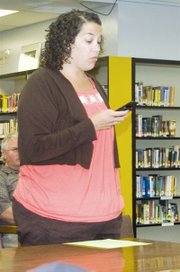 GRANDVIEW - A group of disappointed teachers in red shirts with tags reading "1.9" showed up at the Grandview School Board meeting last night in a display of solidarity.
At issue is the current contract negotiations between the Grandview School District and the Grandview Education Association (GEA). The state has cut teacher pay 1.9 percent this year, and among other issues, teachers would like the district to make up the difference from the reserve fund.
Jamie Downing, GEA president, read a statement to the board expressing concern that no agreement has been reached on a contract. Downing says, "This is not a respectful way to treat your hard working employees." The district and the GEA are close on many issues, according to Downing, but the counter proposal the GEA received in yesterday's negotiations moved the two groups further from a settlement.
Responding to Downing, Director Paul Jepson stated that the district values all its teachers, and are aware of the issues and hoping for resolutions.
In an executive session before the regular meeting, the Grandview School Board met to discuss the situation.
This morning, Superintendent Kevin Chase pointed out that the 1.9 percent cut in teacher's pay was done at the state level and was not a district decision. Without the reserve fund, the district would have had to lay off teachers this year, he said. The district budget approved last night is already spending more than $1 million out of the reserve fund to keep as many programs intact as possible.
Chase says last year the state cut budgets to the schools in the middle of the year, and the district is prepared if it happens again. He says he believes both sides are making good progress and he is hoping for a quick resolution because the lack of a contract is unsettling for the workforce.
Current contract proposals from the district and the GEA can be viewed on the school district's website at gsd200.org.
Classes in Grandview School District start this Thursday.