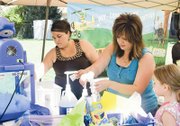 On a wonderful hot day for picnicking in the park, how much better is it when the food is free and you can get health care advice, screenings and referrals while you're at it?
Saturday's heath fair at Sunnyside's Central Park, sponsored by Transformation Sunnyside in partnership with the Center for Hispanic Health Promotion, was a scorching event with representatives from many different groups related to all aspects of health.
Once registered, each participant needed only to visit 12 booths to get a free lunch of hamburgers or hot dogs, and children got to swim free in the pool. Raffles were held every half hour, with a variety of prizes, including back-to-school packages and free massages.
Despite the heat, many people showed up to participate. Kim Arriaga with Sunnyside Community Hospital was testing blood sugar levels. After a couple of hours she'd already found a few people with levels over 300, a dangerous sign that diabetes may be a problem, and referred them for more help.
Community Dental Care's booth was popular as they were handing out free snow cones and temporary tattoos. Their mascot Chomp made an appearance, helping with the raffles and posing for photos with children. Another dental booth gave free examinations to children of all ages.
Other groups included Cascade-Blue Mountain Food Share, who gave information on basic food assistance. Service Alternatives, Inc. told people about foster care. Interpretation Services explained how they offer English to Spanish medical translation.
Other booths covered other aspects of health from domestic abuse to human trafficking to pregnancy. A solid education in what services are available in the area could be gained by visiting the dozen booths required for the free food, swimming and raffle entries.
If you missed this health fair, the Center for Hispanic Health Promotion and Sunnyside Community Hospital and Clinics are helping to sponsor health fairs in different towns around the valley almost every weekend for the rest of summer. This coming Saturday, Aug 27, a health fair will be held at the Church of the Brethren in Outlook from 1 to 5 p.m. and the YVCC campus in Grandview will host a health fair on Sept. 17 from 1 to 5 p.m.