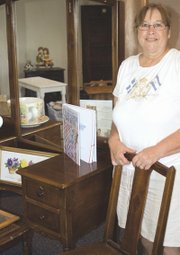 GRANDVIEW - When the Starlight Quilters Guild lost their meeting place, RoseMary Waterman saw an opportune moment to turn her garage into her dream.
Waterman, a retired Grandview teacher, decided to open a gift shop located at 18401 Griffin Road.
Last year Waterman and her husband began transforming their garage into Carriage House Gifts and Collectables.
"The Starlight Quilters Guild really was a big influence in opening the shop," Waterman said.
The guild's former meeting place in Prosser has been out of commission for nearly a year.
"I wanted a place for us ladies to meet; it was our hang out," she added.
The shop will offer more than antique and consignment products. Not only will it serve as a meeting place for the guild; it is the only place within miles that will allow children to feed coy fish, and area residents can purchase cage-free eggs.
A promotional flyer for the new shop might say it best, "Why run to town when you have a little store right in your community?"
A grand opening is scheduled for this Saturday, Aug. 27, from 9 a.m. to 6 p.m.
The event will host a celebration complete with cake, punch and door prizes. For more information on the shop or the grand opening call (509) 882-4894.