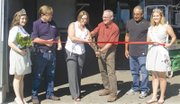 GRANDVIEW - When Milt Geffen gives tours of the new Milt's Original Gourmet BBQ Pellets facility, his enthusiasm is obvious.
The facility, a division of Resource Recovery Group, takes in agricultural waste, including woodchips and pomace (the husks of fruit left after squeezing for juice), and blends them into pellets used to add flavor to smoked foods.
The pellets are sold to retail outlets in one pound and 20-lb. bags in a variety of flavors depending on the blend of wood and pomace used. The pellets have no extra chemicals or additives, just pure local produce.
Geffen, who has made a career out of reducing waste by finding new uses for materials previously considered useless, came up with the idea about a year ago. Lisa Geffen, his wife, says he spotted a pile of discarded wood from fruit trees while out walking, rented a wood chipper and within a month started making BBQ pellets out of such waste around the valley. The new facility will allow him to ramp up production and employ more people.
Geffen is proud to state that his product is 100 percent American made, and almost all his ingredients are local (so far been he's been unable to find a local source for the rosemary he uses in the Rosemary Apricot blend, so he uses California rosemary). Says Geffen, "what we want to do is put Americans to work."