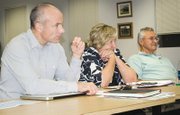 Sunnyside school administrators last Thursday night at a school board retreat reviewed leadership plans and goals for the 2011-12 school year.
The primary focus on each of the plans is improving student progress.
The school board itself has a No. 1 goal of improving progress to 100 percent of students eventually meeting state standards and 100 percent graduation rates.
Although the school board has had in place that goal for several years, the directors decided it was not a goal they want to let go. The board believes it is absolutely necessary that students are successful in Sunnyside schools.
Brian Hart is the assistant superintendent in charge of curriculum and instruction. He and newly named Summit/MERIT Director Heidi Hellner-Gomez said the school district is focused on implementing the framework for success in the schools.
To emphasize the focus, Hellner-Gomez said principals and directors throughout the school district have been tasked to present achievement plans.
Hart added that professional learning communities for K-12 will help meet the learning needs of students,
Curriculum instruction assessments have been aligned to gauge what the students throughout the school district know.
Hart said there are formative and common assessments that will be utilized to ensure student knowledge of the content taught is measured regularly.
The formative assessments can be provided students as the curriculum is studied. Hart said those assessments can be given on a weekly basis, whereas common assessments are less frequent.
Because the entire district will be utilizing the assessment plans, the entire district at each grade level should be aligned and educators can intervene more frequently when students do not grasp materials being taught.
There are professional learning communities at each building level, providing educators in specific schools collaboration throughout the school year. The educators can work together to discuss effective methods of teaching students at each grade level or in a specific subject. On days set aside for professional development educators can collaborate with those outside their buildings.
Hellner-Gomez told the school board, "We are trying to prevent deficits that are in need of interventions."
The student achievement plan includes four goals.
They include increasing student achievement through quality teaching and learning, developing effective leadership focused on student learning, supporting system-wide improvement and strengthening clear and collaborative relationships.
The district measures student achievement with results from state testing, as well as a number of other assessments.
Leadership is measured in a number of different ways. One of the methods utilized is a survey of staff, students and parents.
Leadership plans for principals and program support administrators are an important goal set by the school board. Board members believe the goal is to enhance instruction, through the leadership plans.
Leadership plans focus on the work being completed throughout the district, as well as in the individual schools to improve the learning environment.
Also providing presentations regarding their leadership plans were Director of Executive Services Curtis Campbell, Director of Finance Jeff Loe, Human Resource Director Debbie Holwegner and Hart.
Campbell said his primary goal is to direct and support the effective and efficient operation of the superintendent's office. He also set a priority on ensuring the execution of a district communication plan, supporting the safety of the schools and being proactive in his personal development.
Loe said, "My number one goal is to ensure we have the funds for the programs that are necessary for student achievement."
He said he must keep track of all funding coming into the district and being paid out.
"The better we can educate staff on funding, the better understanding the staff will have of district goals," said Loe.
Hart, too, has many goals that are intended to help promote learning and success in the students, although he works with staff members.
He set in place the goal of promoting staff growth, meaning helping the staff to develop skills to become more effective at improving student achievement.
Hart said he must address how the leadership helps teachers improve instruction and learning.
Holwegner has goals meant to support staff throughout the schools, promoting a healthy learning environment.
She said staff members who enjoy their work and feel their needs are met are more likely to promote a healthy learning environment.
Hart took over the conversation, talking about the student achievement targets set by the school district.
He said the school district has set a goal of 90 percent of students meeting state standards in reading and writing "...regardless of ethnicity, economic level, language or special education." The district has set a target date of spring 2012 to reach that 90 percent benchmark.
In addition, the district has set a goal of 85 percent of students meeting math standards at each grade level by next spring.
"This is the focus of our work," said Hart.
He said the school district wants to see measurable growth and if individual students are behind in an area of study, the district wants to see that strides are being made in terms of growth.
To help achieve that growth, Hart said there are a number of tools in place, including classroom walkthroughs, assessment tools and the implementation of support programs.
District Improvement Facilitator Marlis Lindbloom entered the discussion, stating the plans in place for the district are for three years, ending in 2014.
"We're really pushing a really rigorous curriculum," she said, stating the walkthroughs are causing staff to have conversations about the expectations.
Lindbloom said that although the grant funding for school improvement will not be lasting, the school district must achieve sustainability, continuing to set goals and standards.