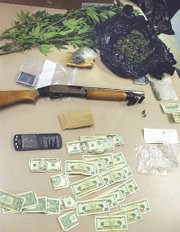 Yesterday afternoon (Tuesday) Sunnyside Police Gang Unit Officers T.J. Orth and Johnny Gusby made two drug arrests and confiscated large quantity of drugs as a result of an unrelated felony warrant.
The officers visited a residence in the 3600 block of Sunnyside-Mabton Highway in an attempt to locate a male juvenile gang member who was wanted by authorities for an active felony warrant.
Authorities said another known gang member, Alejandro Aguilar, 19, was located upon the officers' arrival. He was known to be under supervision by the Department of Corrections.
Aguilar was removed from the vehicle he was located in and detained while officers continued a search of the residence for the wanted juvenile.
The juvenile, say police, was located hiding in a closet.
The officers say they continued a search of the room in which the suspect was located and found scales, money and 148 grams of drying marijuana in the closet.
Officers say they continued to search the property and any buildings located on the property.
Located were marijuana plants still growing, 40 pounds of marijuana and a sawed-off shotgun.
Aguilar's vehicle was also searched, and officers say they located another 27 grams of marijuana, as well as cash.
Aguilar is in custody of Sunnyside police on a requested charge of possession of a controlled substance with intent to deliver.
Requested charges for the juvenile male, 16, include manufacturing marijuana, possession of a controlled substance with intent to deliver and the warrant for which police originally located him.