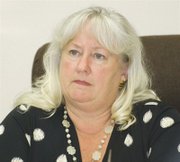 GRANDVIEW - Effective last month was newly adopted legislation to allow collective gardens.
Collective gardens are a means by which up to 10 medical marijuana patients can grow up to 15 marijuana plants each with a maximum of 45 plants in a garden.
The Grandview City Council wants to explore ways by which it can regulate these gardens and last night approved the preparation of an ordinance imposing a six-month moratorium on collective gardens within the city limits.
The ordinance will be presented to the council at its next regularly scheduled meeting.
Quinn Plant of Menke Jackson Beyer Ehlis and Harper explained during a study session last night the legislation was one of several bills presented regarding medical marijuana this past year. It was the only bill that did not receive a veto from Gov. Christine Gregoire.
He said voters a few years ago approved the use of marijuana for medical purposes and the legislation is an extension of that.
City Administrator Cus Arteaga said there have been inquiries at city hall from individuals interested in educating others about medical marijuana gardens.
Plant said the governor wanted the Department of Agriculture to issue licenses for medical marijuana growing operations, but the U.S. attorney wrote the governor warning her state employees responsible for issuing such licenses would be subject to federal prosecution.
"Dispensaries are still an unknown factor," said Plant, stating it is still questionable as to the legality of operating a dispensary for medical marijuana patients to obtain marijuana.
He told the council there are several options for city action. The city can impose a moratorium, explore zoning, impose legal requirements for a permit or license for a collective garden, impose regulations or do nothing.
"There's a lot of ambiguity (in the laws) so a lot of cities have passed moratoriums on both dispensaries and medical marijuana gardens," said Plant.
He said the municipal governments, however, cannot outlaw collective gardens outright.
Councilman Jesse Palacios questioned whether or not cities can do something similar to what was done regarding alcohol historically "...much like a wet county and a dry county."
Plant said that is not a possibility.
He said a six-month moratorium can be imposed without a public hearing.
If council decides to extend the moratorium a public hearing would need to be held, according to Plant. He said council could pass a one-year moratorium, but would have to have a study plan in place beforehand.
Grandview Police Chief Dave Charvet said local officials have been concerned about the legislation and believe strict regulations are necessary.
He said it is difficult to discern legitimate medical marijuana patients from those who illegally possess medical marijuana cards.
Because medical marijuana is a controversial issue legally, both at the state level and where federal laws are involved, Charvet said he would like the city to impose the moratorium to explore restrictions and zoning action regarding collective gardens.
Plant said the city doesn't have in place any zoning laws for collective gardens and a moratorium will allow staff time to develop zoning restrictions and other regulations for collective gardens.
The council following the regular council meeting voted 7-0 to have staff prepare an ordinance for a six-month moratorium.