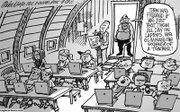 Parents of students attending Mabton and Sunnyside Christian schools today kissed their children this morning, wishing them a great first day at school.
Tomorrow will be my turn as my children venture off into their new classrooms in Grandview.
My youngest son is entering the third grade and I already anticipate the adventure of his new school year. We will have to once again buckle down and somehow manage to get him to read the materials that are sent home...no easy fete given he "hates" reading.
My daughter enters the fifth grade tomorrow and I am anticipating adventures from her, as well. She is easy when it comes to school work and learning, so I am looking forward to her learning to play in the Marimba band. At least, I hope that is what she will choose to do. Time will tell.
The oldest son is entering the world of high school and this past Monday was freshman orientation. Sadly I missed out on the parent meeting, but my dear husband stepped up and attended.
This year is a year for new beginnings and I dearly hope it will be a good year for all the students attending Lower Valley schools.
I want our children to enjoy school as I once did. I want them to experience new things with excitement and take advantage of learning opportunities with zeal.
Although they don't realize it, these years are meant to be the time of their life.
For Brendon, my oldest, there will be new challenges. He will be learning to acclimate to life as a high school student, exploring his interests and expanding his horizons with classes meant to prepare him for college.
He is facing the challenges head-on, choosing classes that won't be easy by any means. One of those classes is an introduction to engineering.
Caitlin will continue to learn another language as a student in the dual language program at her school. She seems adept at learning Spanish and enjoys the process.
She is pleased she didn't opt out of the program when she had the opportunity to join the Grandview School District's gifted learners program.
Every day in school is a challenge for Daniel, the youngest child.
He is a very mobile child and school means a lack of mobility for him. He doesn't like sitting still for very long and he dislikes completing tasks that seem difficult. Math is his favorite subject because he naturally understands it.
For us parents, the challenge of a new school year is the knowledge our children are a little older with each passing day. We want them to stay small forever, but can't stop the passage of time.
I know, for me, that is a challenge. I know my babies are growing up and someday will leave the "nest."
But, for now, I will enjoy every new adventure with a bittersweet smile on my face.