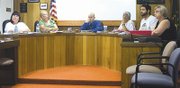 MABTON - There were fireworks at last night's Mabton City Council meeting, or rather, discussion of fireworks.
With Mabton becoming a haven for non-residents setting off fireworks, the question of whether to require permits for fireworks on holidays was tackled during the session, along with items relating to a grant for wastewater system upgrades, repairs to City Hall and the authorization of a contract to assist with water operations. The fireworks issue was referred to the police chief and city attorney, who will present possible solutions at the next council meeting.
A different sort of firework was set off during the public comment portion of the meeting when Mayor Angel Reyna's residency was questioned. The mayor responded that he is not currently living within city limits due to personal issues, but he'd checked the statutes and has time to resolve the issue before it will become a problem by law.
The council tackled a number of other subjects during the meeting. The city decided to join a service to locate underground utilities, citing future growth and the issues of liability as reasons to make sure people know to call before digging. An expenditure to replace broken windows on the second floor of City Hall in order to preserve restoration already done was approved by a four to one vote.
The council also voted to authorize grants related to the wastewater system upgrades and planning for possible improvements to the water system.