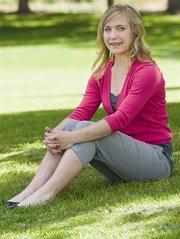 With her feet firmly planted on the ground, digging in and helping the community whenever possible, Geordan Skyles sees the Miss Sunnyside Court as another opportunity to continue helping support those who live and work in Sunnyside.
She has a passion for giving back to the community that has helped her grow and learn.
Skyles is active in 4-H, Key Club, Pep Club, volleyball, track and cheerleading for the Sunnyside High School wrestlers.
She wants to add serving on the 2011-12 Miss Sunnyside court to her resume so she can inspire others to serve the community.
"The Miss Sunnyside court has started a lot of community projects that led to programs I have been involved in," said Skyles, stating she views the court as leaders in the community.
"They think beyond the limits of programs already in place, giving other organizations a starting point for helping the community," she said.
That is why she wants to earn the 2011-12 Miss Sunnyside crown.
Skyles is the oldest of four children. Her parents are Georgianne and Todd Skyles.
As her community service project she wants to work with Community Living, serving individuals with disabilities, if chosen to wear the Miss Sunnyside crown.
"Community Living provides services and housing for the disabled," said Skyles.
The organization is important to her because she has an aunt who works for it. Her aunt has helped her understand the needs of Sunnyside's disabled citizens.
"I want to bring a sense of community to them," said Skyles, stating her hope is that the court would host social gatherings for clients of Community Living. She would like to host parties for special occasions and holidays, helping the clients of the organization feel more like they are part of the community.
"I don't feel people with disabilities are always accepted and treated like the rest of us," said Skyles. "They should be treated the same way."
She aspires to become a veterinarian and plans to pursue a degree from Washington State University following high school.
Skyles has loved animals since she was a small child. She and her family have raised sheep, pigs, horses and chickens.
"I've always had a horse," she said, explaining she would like a veterinarian career, caring for livestock.
For the Miss Sunnyside Pageant, Skyles is planning a tap routine to the song "The Boy From New York."
She spent several years taking lessons and only gave up dance a couple of years ago. Her former instructor is helping her with the choreography.
Sponsoring Skyles at the Sept. 17 pageant is Bon Vino's Bistro & Bakery, Jeff Barrom Argus Insurance, Proebstel Michels PCAs and Petra Construction.