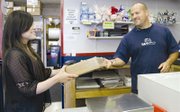 It seems another lifetime ago for Sunnyside's Andy Bonzi when he sold surfboards in Modesto, Calif.
But the California native was drawn to the Sunnyside community by his father-in-law, Dennis Allen, in 1996.
At the time, Bonzi was working for a manufacturer of wake boards and sky surfing boards. He had been in retail much of his young life and Allen was dreaming of a way to provide the community of Sunnyside with a local stop for shipping and receiving packages through FedEx and UPS.
"I was done with the California scene," said Bonzi, stating he and his wife, Teresa, decided to help Allen's vision become a reality.
The couple moved to Sunnyside and began managing the community's newly established shipping and mailing store, Ace Postal Center.
"A little of the reason for opening the store was to provide the community a location locally for shipping packages, rather than traveling to Yakima," said Bonzi.
He said the aim of those working at the store is to provide quality, friendly customer service.
"We gladly will pick up a package in Yakima if necessary," said Bonzi, stating he seeks to serve the community's shipping needs.
In addition to shipping services, Bonzi provides fax and printing services.
He said each service is intended to cut down on travel costs of local residents.
Private mailbox clients, for instance, can call ahead to find out if they have any mail. "They can save themselves a trip down here," said Bonzi.
Private mailboxes are also convenient for "snowbirds," of which he said there are many.
"We can forward mail to them," said Bonzi. "I think that's unique."
Also, packages can be sent to Ace Postal so customers don't have to worry about missing a delivery.
Bonzi said, "We will gladly hold it for them."
In the past couple of years Bonzi and his wife have been in the process of purchasing the store from Allen.
They have been adding unique gift items, giving Sunnyside residents another shopping spot from which they can find that perfect item.
"We look for items that can't be found just anywhere," said Bonzi.
He said the shipping business can be challenging, especially when a customer needs a custom-made box.
"We try to do the best we can with the supplies on hand...we try to stay one step ahead, anticipating the unexpected," said Bonzi.
He also said it isn't always easy to please everyone.
"Sometimes customers aren't happy, but I believe we do a pretty good job."