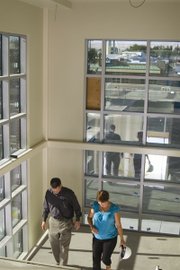 It may not look like it in places, but the first phase of the Sunnyside High School remodel is set to be completed in time for the start of the 2011-12 school year.
That's according to officials from both the school district and architect Loofburrow and Associates during a tour yesterday, Thursday, of high school construction now underway.
Braven Bendzak is the district's point man on the project, and he has outlined a schedule that reflects items such as the HVAC system and parking lot paving being done before the school year starts on Sept. 6.
Other items, such as some doors, as well as flooring for the main entrance area will be in place shortly after the school year starts.
Gary Wetch of Loofburrow said there were delays in getting the project started due to a combination of state bureaucracy and unexpected asbestos that had to be removed.
In all, Wetch says the 15-month time frame to complete phase one was actually reduced to 11 months.
On top of that, a subcontractor error last November meant that initial concrete footings had to be torn up and poured again.
During comments later at the Sunnyside School Board meeting, Wetch expressed appreciation to the board for the Sept. 6 start to the school year, a week or so later than usual.
"We'll need every day," he said of the construction window before school starts.
Fannin/Daily Sun News
Harrison Middle School Principal Robert Bowman and school board member Michelle Perry make their way down the staircase in the new two-story classroom addition at Sunnyside High School. The feature gives additional light and better viewing for school officials to monitor activity in the parking lot and school grounds.