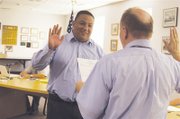 During its regular meeting last night, Thursday, the Sunnyside School Board approved a new contract with the city of Sunnyside for school resource officers.
The bad news for the district is it will have to pay $125,000 during the 2011-12 school year to cover half of the cost for two SRO's. Previously, the district had paid $100,000 for three SRO's, with the city of Sunnyside picking up the remainder.
The good news is that the two SRO's will be available 12 months of the year, instead of the nine-month school year as was the case earlier.
Superintendent Dr. Rick Cole said the move was necessary as a way to reflect the desire to split the costs evenly with the city of Sunnyside. The city had been paying the majority of the cost for the SRO's, which are hired by and assist the Sunnyside Police Department.
Cole said a benefit of having the SRO's available year-round with the school district is that it will allow time to address security planning and evaluate ways to improve security at all of the school buildings in the district.
Having SRO's during the summer also means there will be coverage during summer school, Cole said.
Last night's contract also means the Sunnyside School District will have one less security liaison.
The Sunnyside School District will present a levy next February for voter consideration that would restore the third SRO position.