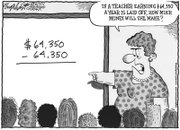 Tough economic times, who's not facing financial hardship right now? Our cities, nearly every state in the union, our federal government, heck...most of the entire world is up against it.
To get out from under all of this over-spending and massive debt, a vast number of solutions have been placed on the table for discussion. There hasn't been much consensus on what it's going to take to get us all back on a healthy financial track, but there has been one common denominator that surfaces when these budget-solving melees break out. Simply put, it's the concept that sacrifices are going to have to be made.
Few people want to make sacrifices, though. Many refuse to budge. Let the other guy make do with less is often the sentiment that comes through loud and clear.
Just such a sentiment was vividly expressed earlier this week at a Grandview School Board meeting. Numerous teachers, led by the president of the local educators association, Jamie Downing, showed up in red shirts with a tag that displayed the numeral 1.9.
That number reflects the 1.9 percent pay cut that Washington state teachers were mandated to accept, because of legislation approved earlier this year by lawmakers.
Downing and her supporters, however, are insisting that the Grandview School District antes up the 1.9 percent cut in pay, making up the shortfall with monies from the district's reserve fund.
Let's toss out a reasonable figure for a teacher's pay, say, $40,000 annually. That 1.9 percent pay cut amounts to less than $800 a year. Yes, some sort of sacrifice will have to be made, but when you factor in that the slightly less than $800 pay cut amounts to about $65 a month, who among us can't squeeze that much from our household budgets?
I wasn't all that happy last fall when I was informed that the business I work at was going through some tough economic times. To make ends meet and keep the operation flowing smoothly, we here at this office, some 20-plus employees, were all told we had to take one furlough day each month. The loss of the one day's pay each month amounted to about a 4.5 percent cut in salary.
Didn't like it, grumbled about it to co-workers and my better half, but finally came to terms with it after realizing that there are a lot of people out there who don't even have a job, and the prospects of securing employment are even more bleak in these economic times.
Believe it or not, we've all had a hand in creating this financial fiasco that's facing us. Accept it or not, sacrifices are going to have to be made to get us out of this mess.
My suggestion to Downing and her supporters in Grandview is: suck it up, accept the 1.9 percent pay cut and do your jobs. There are hundreds of thousands of people who wish they had a job to report to.