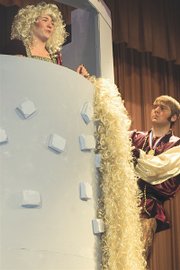 TOPPENISH - Historically known throughout the theatrical world, day two performances are always the worst.
If this is true of the Toppenish Creek Players' musical, Rapunzel, the cast is not in bad shape.
Though there was the inevitable missed note or forgotten line throughout the production, the humor and convincing tones made up for any errors.
Most impressive however, was the witch, Megan Kluever's commitment to her character. Her be-witching voice, along with her red contact lenses leaves audience members believing she could actually have witch-like powers.
The perfect role for a sometimes too quiet voice was KayDee Weddle as Rapunzel. With her spoken lines, her tone suggested the role of a sweet and innocent child; depicted accurately for the role at hand. When singing, however, she might have projected her voice a bit louder, to rise above the piano, played very competently by Thea Friss.
The cast members who brought the most laughter to the crowd were the royal entourage, played by Virgil Newman, Tom Stegeman and Jim Myers. It didn't matter if the three missed a note or a line; the humor outweighed any mistakes, if any were had.
The set construction seemed to be strategically thought out, with three main backdrops. It was built on wheels in a triangular shape and easily rolled on to the next scene.
What was most impressive however, was the crew's seemingly committed attitude towards the production. The program suggested all the cast, crew and even the director had a role to play with costume design and set construction and props.
All too soon, the production nears the end with the appearance of the warlock, played by Nathan Bushman, who also played the role of the squire. He appears before the audience with a convincing stumble across the stage and the facial expressions of an older, senile gentleman.
What was most disappointing however, was the lack of community support and audience attendance. Community theater is a seemingly dying form of entertainment. One can only hope the turnout will increase with each ensuing performance. This particular production is perfect for a family outing, and an excellent alternative to snacking by the television.
The cast is comprised of Kaylyn Gunnier as the narrator, Anita Hoezee as the mother, Phil Davis as the father, Megan Kluever as the witch, KayDee Weddle as Rapunzel, Tyler Nelson as the prince, Nathan Bushman as the squire and the warlock, and the royal entourage played by Virgil Newman, Tom Stegeman and Jim Myers.
Three additional performances, all starting at 7 p.m. at Toppenish's Yakama Nation Heritage Theater, are slated for Aug. 29, 30 and 31. The production, quite honestly, is worth the short drive to Toppenish.