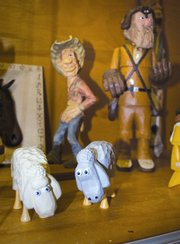 Joye Nelson, a 1953 graduate of Sunnyside High School, has been carving caricatures and other interesting figures out of wood since the age of 53.
To call his woodcarvings a hobby is an understatement because his passion shows in his art.
Nelson said he doesn't do it for accolades or money, but merely because it is relaxing.
Approximately 60 pieces of his art is on display at the Sunnyside Museum.
"I am hoping people will visit the museum, and if they visit because of my art, they will see all the fine pieces of history also on display here," Nelson said during a visit to the museum earlier this week.
He said each piece is unique. Some pieces are updated, better carvings inspired by earlier pieces. But, the carvings have a personality all their own.
"The pieces on display may have a western theme, but I carve other themes," said Nelson, stating he has at home more than 200 other carvings.
The wood he selects for the carvings is particular. He said he is particularly fond of basswood or linden. He also likes cottonwood for some carvings.
The basswood and linden come primarily from Minnesota or Wisconsin.
"They have very little grain and have survived harsh climates," said Nelson.
He said cottonwood bark is useful because "...it holds detail well."
Nelson got started in woodcarving after having taken several painting classes. The woodcarving classes were held on the opposite evenings of his painting classes.
"It takes a while to get used to," he admitted, stating each piece is carved with care and precision. He uses woodcarving tools beyond the pocketknife.
"Woodcarvers are very supportive of one another," he said, stating one of the draws to the art was the people with whom he came in contact.
Some of his pieces have been exhibited at woodcarving shows and have been awarded recognition. Nelson said he exhibited them merely for the fun of sharing with others.
His favorite pieces are the caricatures. "The trick is to create a character with unusually large hands, ears, noses or feet...disproportionate features," said Nelson.
"When you get into woodcarving it's good to let the imagination run wild."
The carvings on display at the museum are on loan.
Nelson said his brother lives next to "curators" John and Sally Saras.
He began talking with them about his carvings and decided the pieces of art might interest community members.
"I don't have a favorite piece," Nelson said, but he enjoys the western theme because of a lifelong love of horses.
"I had horses when I was a boy in Sunnyside, my daughters had horses...I just love them."
Nelson said his carvings are all about having fun.
The caricatures reflect that from bug-eyed sheep to silly cowboys to a cowboy and his horse who appear to be hanging from a snag after falling from a cliff.
"I just want to promote the museum," said Nelson, adding, "I hope people will visit."