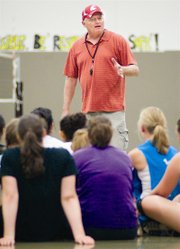 He may be a first-year varsity head coach for Sunnyside Lady Grizzly volleyball, but Sandy Jaquish is well acquainted with the program.
Jaquish has been involved with volleyball at SHS for the past eight to 10 years as a JV, freshman and even club coach.
As a result, many of the varsity athletes he's coaching have played for him since starting school at SHS.
"It's going pretty well. Everybody will contribute," says Jaquish, a Sunnyside native who started playing volleyball nearly 30 years ago in the city's park and rec program. His sister was on the first volleyball team offered at SHS.
Jaquish says the turnout is a bit down from last year's total of 60 athletes in the SHS volleyball program. So far the Lady Grizzlies have 45 volleyball athletes. Jaquish says the lower number is due to a combination of the late start to the school year and the fact budget cuts meant losing the C squad.
"It's been harder on the younger girls," he said.
He praised the work ethic of his varsity athletes, noting they've competed at summer volleyball tournaments. "We played a lot of girls to get them game experience," Jaquish said. "It's one of the better summers we've had."
That experience should come in handy as Sunnyside will again face tough competition among CBBN 3A schools like Pasco and Eastmont.
"We're in a tough league," Jaquish said. "Every match we'll have to battle."
The goal for the 2011 league campaign, he adds, is to "get some wins and get to Districts."
Jaquish says the Lady Grizzlies will be at a height disadvantage in many league matches, but notes that quickness and athleticism should help make up the difference.
"We'll look across and probably see some taller girls, but we're just as athletic," he says.
"We might have to be creative on offense," Jaquish adds. "We'll have to scratch and claw like a grizzly does."