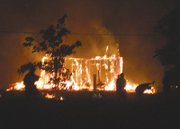 MABTON - The charred remains of an abandoned home and a garage, as well as charred grass, are all that stand at a location in the 600 block of Fern Street in Mabton.
The destruction is the result of high winds sustained last night.
An abrupt storm blew into the Lower Valley, causing trees to topple. One of those trees fell on a power line near Sixth and Fern streets in Mabton. The power line ignited a blaze in dried grass near several homes, including the abandoned home, according to Mabton Fire Chief Luke Cussins.
He said the fire spread quickly across the field setting ablaze the abandoned home.
Cussins said firefighters from his department, which is mostly made up of volunteers, raced to the scene and fought the blaze that threatened 12 other homes.
He said a garage belonging to another residence in the area also caught fire in the melee and firefighters had to defend the surrounding homes.
"A shed was also damaged," said Cussins.
He said the home to which the garage belonged was nearly ravaged, but firefighters were able to defend it at a fence line.
"The fire was jumping," said Cussins, stating firefighters had to extinguish flames on property directly across the street from the home that was destroyed, as well as every other home in the area.
Although there were no reported injuries to any humans, one dog perished in the blaze.
Cussins said the estimated damage has not been calculated yet.
Assisting the Mabton Fire Department were firefighters from Sunnyside, Grandview, Prosser and Yakima County Fire District #5.
"It could have been much worse," said Cussins.