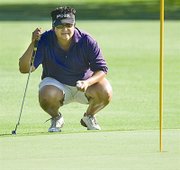 The Banana Belt, once the Sunnyside golf course's most prestigious tournament of the year, made major strides in returning to its former days of glory.
Staged this past weekend at Black Rock Creek Golf Course, the revamped Banana Belt tourney drew a field of 98 linksters. Last year's field drew only three dozen golfers, just 32 competed in 2009.
The resurgence was chiefly due to the work put in by a special tournament committee headed by Sunnyside's Phil Luther. He and other committee members labored for several months, lining up a multitude of sponsors that upped the stakes, and the payouts, for this year's field. The 2011 version of the Banana Belt not only included $15,600 in payouts for the top finishers in each of the three flights, but numerous other payouts (lap prizes for best front and back nine scores both days of the tourney, hole-in-one extravaganzas, KP prizes, side game prizes and a Calcutta auction that netted the top five team owners more than $4,000 in payouts).
"The course was in beautiful shape and we got some of the hot, sunny weather the Yakima Valley is known for, which in itself should have brought in quite a few golfers to this year's tournament," said Black Rock Creek PGA Club Professional Scott Galbraith.
"Truth be told, though, it was all the hard work that Phil Luther and his committee put in all those months leading up to the Banana Belt that ballooned our field to nearly 100 golfers," said Galbraith.
"I can't commend all the committee members enough for the work they put into this.
"It would be fantastic if we could keep the Banana Belt growing and expanding each year from here on out. From what I saw, everyone had a great time, and with the prize packages that were on the table, a lot of the golfers this year left pretty happy," Galbraith said.
The two golfers who exited the golf course Sunday afternoon with the top bragging rights were Gary Hutchins and Brian Bliesner.
Hutchins, a Yakima-area resident and a regular at Selah's Elks Country Club, bested the field by carding an even-par 144 over the course of the two days.
Bliesner, a native of Sunnyside, walked off with low net of field honors for posting rounds that were the furthest under his scoring average. His handicap-aided, two-day total was an 8-under-par 136.
Both, Hutchins and Bliesner earned the top payouts of $700.
In shooting the lowest two-day total below his established handicap, an 11, Bliesner opened the Banana Belt with an 81 on Saturday. His front nine was pretty much uneventful, absorbing a pair of double-bogeys enroute to posting a 7-over 43. Bliesne's back nine, however, buoyed his opening day round, as he posted a 2-over 38, thanks to birdies on the par-5 13th and par-4 15th holes.
Sunday, Bliesner went 40-37 on the two nines, snaring tweeters on the par-5, 485-yard third hole and on the par-4, 283-yard 10th hole.
Bliesner's handicap-aided 136 turned out to be just one stroke better than the net scores of Dave Wilson and Jason Eberle, each of whom carded net rounds of 137.
Hutchins, in touring Black Rock Creek with the actual lowest two-round total, grabbed the lead on the opening day by firing a 1-under-par 71.
A 1-handicapper, Hutchins torched the front nine with a 3-under-par 33 on Saturday. He knocked down birds on both of the front nine par-5 holes, as well as on the par-4, 377-yard eighth hole. Hutchins' back nine score Saturday was a 2-over 38, the one glitch coming on the dogleg right, 11th hole, where he took a double-bogey.
Hutchins was a model of consistency on Sunday, going 36-37 for a 1-over-par 73. His closing round featured 11 pars, four bogeys and three birdies.
The closest any other golfers came to Hutchins were a pair of 4-over-par 148's, posted by Yakima's Perry Page and Goldendale's Zach Wanderscheid.
Page shot the second lowest round of the day on Saturday, a 1-over-par 73, but lost ground on Sunday with a 3-over-par 75. His opening day round included putting four birdies on his scorecard. Sunday's round, Page could muster up but one bird, that coming on the par-3, 134-yard 17th hole.
Wanderscheid, a two-time Class A State high school golf champion who has one year experience under his belt playing for the University of Idaho men's golf team, never got on track on the opening day this past weekend. He settled for a 5-over-par 77 (40-37). Wanderscheid bounced back nicely on Sunday, though, shooting the low round of the day, a 1-under-par 71 (37-34). His second day round included five birdies on his scorecard.
Grandview's Akira Nozaka and Yakima's Troy Wilmoth ended up tied with the fourth lowest two-day totals.
Nozaka's round on Saturday was a 2-over-par 74 (37-37). He closed with a 75 on Sunday (38-37), for a 5-over-par, two-day total of 149.
Wilmoth's two-day total of 149 included opening and closing rounds of 75 (38-37) and 74 (36-38).
Golfers who cashed based on their two-day totals included:
LOW GROSS OF FIELD -
Gary Hutchins, 144 ($700)
LOW NET OF FIELD -
Brian Bliesner, 136 ($700)
FIRST FLIGHT -
Gross: 1st-(tie) Zach Wanderscheid & Perry Page, 148 ($550), 3rd-Troy Wilmoth, 149 ($425), 4th-Brad Donahue, 152 ($325), 5th-Andrew Schutt, 154 ($225), 6th-George Jackson, 155 ($125)
Net: 1st-Akira Nozaka, 139 ($600), 2nd-Tony Hidalgo, 141 ($500), 3rd-(tie) Sean Tudor & Doug Veach, 145 ($375), 5th-(tie), Lucas Pruneda, Lyn Dasso, Mike Chambers, Russ Arbuckle & Don Cardenas, 146 ($70)
SECOND FLIGHT
Gross: 1st-Gary Heslop, 161 ($600), 2nd-Keith Sattler, 168 ($500), 3rd-Rick Mitoff, 172 ($425), 4th-Jerry Besel, 173 ($325), 5th-(tie) Dick Poteet & Larry Kingselle Jr., 174 ($175)
Net: 1st-(tie) Dave Wilson & Jason Eberle, 137 ($550), 3rd-Aaron Rodriguez, 142 ($425), 4th-(tie) Stew Rogers & Troy Monholland, 144 ($275), 6th-Paul Hart, 148 ($125)
THIRD FLIGHT
Gross: 1st-Gary Hoff, 180 ($600), 2nd-Chuck Mattocks, 181 ($500), 3rd-Stan Davis, 186 ($425), 4th-Dean Benson, 188 ($325), 5th-Eli Gonzalez, 190 ($225), 6th-Gary Lambdin, 191 ($125)
Net: 1st-Darryl Coleman, 142 ($600), 2nd-Frank Cabellero, 143 ($500), 3rd-Gary Lydum, 145 ($425), 4th-Rick Holt, 147 ($325), 5th-Bill Beaupre, 149 ($225), 6th-(tie) Jon Gonzalez & Ken Herber, 151 ($62.50).