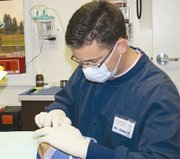 General anesthesia for young dental patients requires tender loving care.
Patients who have extensive dental work and are uncomfortable going to the dentist often prefer general anesthesia to localized anesthesia, and children who have a lot of cavities are no different.
Often encountered among young patients is a number of cavities, or "early childhood carries," caused by bottle usage, according to Dr. Brent Martin of Community Dental Clinic in Sunnyside.
He said those patients are typically between the ages of 2 and 6-years-old.
The problem, said Martin, is what used to be referred to as baby bottle decay.
"Most of the time an initial exam is not a problem (among young children). Children don't have a severe fear of the dentist," he said.
The issue of several cavities is when general anesthesia becomes the suggested course of treatment.
The patient can receive complete treatment of the decayed teeth in one exam. They do not have to be subjected to needles that are used for localized anesthesia.
Community Dental Clinic Office Manager Norma Mendoza said a child's medical history is very important for general anesthesia treatment.
An anesthesiologist with a medical degree is required for the treatment. Community Dental has four contracted anesthesiologists who administer the anesthesia and monitor the child's biological functions throughout the procedure.
The child's heart rate, breathing and other vital signs are monitored on medical equipment just as they would be if the child was in a hospital.
The child is treated by one of the five dentists on staff at Community Dental.
Dr. Kent Copeland said, "Treating a child with local anesthesia is not enough when excessive (dental) care is needed."
He said many children arn't comfortable with the care because they do not like being subjected to shots.
As a result, Community Dental has on site a surgical suite that caters specifically to general anesthesia patients.
Treatments begin as early as 5:30 a.m. and patients receiving the care enter a separate waiting area from the other patients.
"They can be cranky," said Mendoza, noting the patients aren't allowed food or beverages the night before treatment.
"There are people who aren't aware we provide general anesthesia care," said Martin.
Because Community Dental is growing in the number of patients treated, the clinic recently opened offices in Zillah and Prosser. Patients in need of general anesthesia, however, will be referred to the Sunnyside office, said Copeland.
The clinic has two pediatric dentists and orthodontic care, as well.
"We believe in providing full service to patients in our care," said Martin, stating the Sunnyside office also accepts referrals for general anesthesia treatment from other local dental offices.