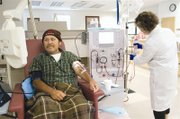 There are three leading causes of kidney (renal) failure. They include diabetes, high blood pressure and polycystic kidneys.
Two of those causes are prevalent in the Lower Yakima Valley and DaVita Mt. Adams Kidney Center in Sunnyside is busy keeping up with the growing trend of patients in need of dialysis.
Facility Administrator Stephanie Sanchez said the population in the Valley consists of a lot of Hispanics and Native Americans, who are genetically predisposed to diabetes and high blood pressure.
Because of this there is a rising number of patients in need of dialysis due to kidney failure.
Sanchez said diet plays a large role, as does the patients' delayed response to symptoms, in whether or not individuals experience kidney failure.
She said there are a number of patients treated at DaVita who failed to seek preventative care.
"They didn't visit their doctor as often as they should have, causing a delayed diagnosis for illnesses that led to kidney failure," said Sanchez.
She said it is important for anyone with diabetes or high blood pressure to listen to and adhere to a physician's advice to prevent kidney failure.
"Approximately 31 million adults in the U.S. have chronic kidney disease...there are many more at risk without even knowing it," said Sanchez.
Patients treated by the medical staff at DaVita Mt. Adams Kidney Center travel to Sunnyside from as far away as Toppenish, Prosser and Goldendale.
There are approximately 80 patients provided regular dialysis, which serves to clean the blood of toxins when kidneys no longer can process them.
The patients range in age from their 20s to late 80s, said Sanchez, noting both young and old can suffer kidney failure.
Dialysis is serious business. She said dialysis treatments can be either at home or at the kidney center.
Either way, it requires continuous care.
A patient receiving dialysis at the kidney center must receive treatments three times each week. Dialysis can last from three to four hours each visit. And, the patients are typically tired the rest of the day.
"It's a serious commitment to the patient's health," said Sanchez.
She said because of the routine, the center is open late on Fridays for patients treated Mondays and Wednesdays. It is also open Saturdays for those who are treated Tuesdays and Thursdays.
Those who opt to have dialysis in the home must have daily treatments.
Sanchez said there are two types of at-home dialysis machines, one that requires a partner and one that doesn't.
"The option to have at-home treatments depends on the patient's support system," she said.
Sanchez said home treatments are preferable for many patients because dialysis can be done at the patient's convenience in comfortable and familiar surroundings.
She said care at the center is intended to be comfortable, too. Patients have personal TV screens they can watch while lounging in recliners. However, it is not the same as at-home care.
Also, because treatments at home are daily, the experience of feeling well doesn't have as many peaks and valleys as treatments in the center.
"There's less of a time lapse at home," said Sanchez.
Because so much of the patient's routine is scheduled around dialysis and so many hours are spent with the medical staff at DaVita, Sanchez said, "The patients become like family.
"We celebrate with those who are recipients of a kidney transplant and it is sad for us when one doesn't survive their illness."
DaVita has had its center in Sunnyside approximately six years.
Sanchez said, "Unless a person is a patient or family member, people often don't know what DaVita is and what we do."
Patients don't only receive dialysis at DaVita. There is a dietician on staff to advise patients of the special diet they must adhere to in order to maintain their lives.
Also, a social worker helps patients with financial needs and mental health issues.
The center has the ability to provide dialysis for 14 patients at one time. Care is provided by certified patient care technicians, registered nurses and four physicians.
"It's regulated by the CMS (Center for Medicare and Medicaid Services)," said Sanchez, adding more than 95 percent of patients treated at DaVita are Medicare or Medicaid recipients.