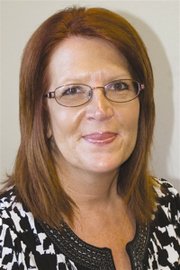 MABTON - Sue (Purdy) Sartain is a Mabton native. Now, she's back in Mabton as the junior/senior high school vice principal.
After graduating Mabton High School in 1973, Sartain moved to Grandview to raise her family. In 1983 they moved to Goldendale.
Sartain got her start working in schools in 1991 as a para professional for the Goldendale School District. When her husband got word of a bone cancer diagnosis, in 2000, she headed back to school.
Sartain said in light of his illness her husband suggested she invest in a career.
"It was important to him that I learned and got a good trade," she added.
After several surgeries and tears, Sartain said her husband is in good health.
"He is doing fantastic; he's retired and doing wonderful," she added.
She started with her Associates Degree and began driving over the pass every day. She obtained her Bachelor's degree from Heritage University in Toppenish.
Sartain never thought she would be back 'home' working for her alma mater. Growing up in Mabton, she said her family didn't get out much.
"We went to Nebraska to see family, once a year for a week; that was our vacations," she said.
After high school Sartain wanted to become an airline attendant.
"I wanted to travel the world," she said.
Plans change and so did she.
"Growing up, I never liked school," she said. "But now I can't get enough of it.
In 2006 she had a dream. She awoke in the middle of the night with a certainty; "I'm going to teach in Mabton," she told her husband.
"I didn't know how, but I just knew," she added.
A short time later a friend suggested the special education position.
"I applied and have been doing it until this year," she added.
Sartain has worked as the special ed teacher and ASB advisor for the past five years. Superintendent Minerva Morales wrote in a recommendation that Sartain has also assisted at the district level with school and district improvements.
At the regular school board meeting last week. Sartain's new position was approved by the school district, replacing middle school principal Denny Brown.
"It's like coming home," she said. "(Mabton) will always be home."