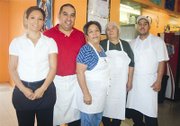 Gutted by fire back in May, Sunnyside's El Conquistador Restaurant has re-opened under a new name and at a new location.
A little more than two weeks ago, the eatery opened as the Conquistador Restaurant in the Mini Mall on Sixth Street in downtown Sunnyside.
Jose Mora still operates the restaurant, and noted the name change was made by his father, Tiburcio, who is the original owner.
Mora says his father is also handling issues associated with the restaurant's former location on Edison Avenue, which has not been cleaned up since the blaze three months ago.
He says he has his hands full getting the restaurant back up and running.
Mora says the Mini Mall location has less seating, about 130 compared to the occupancy of about 200 at the old site, but has more off-street parking and visibility along Sixth Street.
So far, he adds, customers are giving thumbs up to the new locale - especially the abundant natural light from generous window panels in the front seating area.
Not only are the faces the same at Conquistador, the menu should also be familiar to patrons as daily lunch specials will continue.
All of the dishes served up at El Conquistador will also be available at the Conquistador.
Mora says some details at the new location are still being worked out, including a banquet room. He says the establishment should have its liquor license in about two weeks.