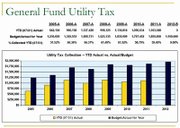 "We're generally in fairly decent shape between now and 2012," Sunnyside's CFO, Byron Olson, told the city council last night. "It's Jan. 1, 2013 where I have some concerns."
Olson's comments Monday night came during a special budget review session held by the city council.
Olson, who is also the city's deputy city manager, says that over the next eight months the city needs to come up with a plan to address budget shortfalls before 2013.
In part, that's because long term there's no money to pay for nearly $800,000 in new expenses council approved earlier this year.
The new costs include more than $500,000 for two new police officers, a new crime analyst position and four police vehicle leases combined. Other unfunded expenses approved this year include $236,090 in debt service for the former Monson property.
Olson says money is there through 2012 to pay for those items without dipping into a $1 million contingency fund that he says needs to be considered as being in a "lock box." He added, "Our goal is not to spend any of that in 2011 and 2012."
While council's unfunded budget mandates will force some tough choices, Sunnyside has other budget struggles that include a $250,000 shortfall this year to date in the jail fund.
Deputy Police Chief Phil Schenck told council last night that U.S. marshals are sending far fewer prisoners to Sunnyside. The city relied heavily on revenue from housing federal prisoners in developing its jail budget for 2011-12.
On a positive note, Schenck said with more room available in the jail local bookings are up 25 percent and the length of jail sentencing is up.
Another budget concern is that the city is applying too much of its utility tax revenues to cover general fund costs.
The issue, says Tim Jensen, an interim accountant with the city, is that state auditors are holding cities more accountable in using tax revenue for the department it's collected from.
In other words, the city will have to show how money it uses from water and sewer taxes benefit the taxpayers in those respective departments.
Sunnyside had planned to take $900,000 from taxes it collects on utilities and apply it to general fund expenses.
The city will have to give $400,000 back to the utility fund because that portion was being used to supplant the rest of the general fund budget and not specifically on water and sewer work, for example.
Olson is hopeful auditors will allow the city to pay back water, sewer and other utility funds over time instead of all at once. He's also hopeful auditors won't issue a finding against the city since Sunnyside has recognized the problem.
Speaking of utility taxes, Jensen is advocating the council hike them in order to make ends meet by 2013.
He says the 6 percent utility tax Sunnyside charges on its water and sewer services pale in comparison to the 40 percent Grandview charges. In the valley overall, Jensen said the average water/sewer tax is about 24 percent.
Councilman Don Vlieger told Jensen that the city's water and sewer rates are already high. "It costs $80 a month before you turn your water on," he said.
Also on the table last night was implementing a $20 car tab fee and asking voters to approve a "metropolitan park district" that would add $75 to the property tax bill on a $100,000 home.
Though not as specific, the last page of the 49-page budget review contained a proposal to reduce costs in the general fund through cuts in recreation, parks and streets.
Olson is advocating council consider a combination of revenue increases through taxes and fees, as well as budget cuts.
Council will take up the budget situation again during a special meeting set for Oct. 3.