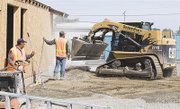 GRANDVIEW - Construction on the Grandview community center commenced earlier this summer.
The land has been cleared, and footings and stem walls poured, according to Grandview Parks and Recreation Director Mike Carpenter.
He said construction of the community center is on schedule and it is anticipated the parks and recreation staff will move in next April.
The George Young building at Grandview's Country Park will be incorporated in the community center. It is receiving a makeover to accommodate a commercial kitchen, meeting room, office space, restrooms and storage.
"The building will be an 'L' shape," said Carpenter.
He said the facility will net 9,967 sq. ft. of space to be used by community members.
The American Legion Auxiliary will have its own storage room at the new community center. "Grandpa's Playhouse" will be a billiards room and the main entrance to the community center will be flanked by Carpenter's and Assistant Parks and Recreation Director Gretchen Chronis' offices.
A game room, registration area and an elementary school-sized gymnasium are also planned for the facility.
"The plans include the ability to expand the center, if deemed necessary at a later date," said Carpenter.
He said the community center advisory committee has not yet decided upon a name for the center, but will soon be discussing possibilities.
"We have been working diligently for furnishings," Carpenter said, stating furnishings for the facility were not included in the funding.
As a result, he has been securing small grants and donations for all that will make the community center user-friendly.
The community center is being built with funds secured through a community development block grant ($1,077,500), the sale of the Grandview senior center ($360,000) and another $60,000 paid by the city for a 12-ft. gym extension and acoustic paneling.
Construction for the community center is contracted with Blews Construction, which was responsible for the construction of the new library in Grandview.