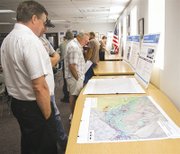 A study in contrasts greeted state and local officials yesterday during a public hearing on nitrate pollution in the Lower Valley's groundwater.
Tuesday night's comments here in Sunnyside included rants against the dairy industry as a possible culprit in the nitrate problem. In response, some defended the dairy industry.
Others called for a wait-and-see approach until the EPA completes its research of nitrate sources in the Lower Valley.
Tom Eaton of EPA was on hand for last night's meeting in the Denny Blaine boardroom, and he said initial results are in and have been sent to individual property owners. He said the overall results will be assembled and released to the public by the end of this year.
"We would likely pursue enforcement," Eaton said of those property owners who are found to be contributing to the nitrate problem.
Eaton noted his agency tested several hundred wells in the Lower Valley last year, and the result of that showed 20 percent had nitrate levels exceeding federal limits.
Nitrate in drinking water is an issue because it can reduce the body's ability to produce red blood cells, lead to "blue baby syndrome" in infants and increase the risk of miscarriage and birth defects.
Charlie McKinney of the Department of Ecology told the group of about 40 or 50 people last night that potential sources of nitrates are fertilizer, animal waste, septic systems, wastewater spray fields and wellhead problems.
"If abandoned wells are not sealed off properly they can be a conduit for nitrates to leak into the groundwater," McKinney said.
Joye Redfield-Wilder of the Department of Ecology encourages well owners to test at least once every three months to see if nitrate contamination is consistent or seasonal. She also encouraged well owners to review the depth of their well casing.
The overall focus last night was to take another step towards establishing a Lower Valley groundwater management area to reduce concentrations of nitrate in the groundwater here.
The groundwater management area would be a partnership of state and federal agencies, citizens and Yakima County. It would not only collect data and identify nitrate "hot spots" in the Lower Valley, but also educate and enforce laws and ordinances.
Anne Knapp from the Governor's office of regulatory assistance said the state will make a decision in October on whether to allow the groundwater management area.
Public comment on the groundwater management area will be received until Sept. 22 via e-mail at gwma@ecy.wa.gov, by calling 509-457-7107.
Written comments can be sent to Charlie McKinney at the Department of Ecology at 15 W. Yakima Ave., Ste. 200, Yakima, WA 98902.
To review the groundwater management area proposal on the internet visit www.yakimacounty.us and click on the nitrate program link. Hard copies are available at McKinney's office in Yakima.