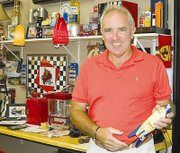 A rusted old toy tractor, the shell of a motorboat apparently beyond all hope, the scratched and painted headboard of a classic bed frame; where other people see junk John Booth sees the start of a new project.
Booth, owner of MJB Construction, builds more than houses. In his sparse spare time, he also restores everything from boats to toy tractors from a state of near garbage to looking like new.
Booth's restoration work started as a list of "honey do" jobs from his wife Mischelle. She requested that he restore a well worn 1946 toy tractor owned by a family member. The tractor now looks like it just came off the factory line.
His current project is restoring a bedroom set made of exotic wood purchased by his son online for a fraction of the full price. By the time he's done, no one will be able to tell the set wasn't purchased new.
He's also restored three motorboats to prime condition, as well as classic signs, antique equipment and collectibles. A small display of Shell memorabilia occupies a spot in his workshop, all faithfully restored by his own hand.
He says that the restoration is "supposedly my hobby." But it requires a lot of work, like a real job. Asked where he finds the time, he says he just doesn't watch TV, but instead is out in his workshop every evening.
The results can be startling. An old set of school desks wait for new students, a classic Zenith radio from 1936 looks like a showroom model, and grandson Ty Booth plays on a toy tractor that was built before his parents were born.
As Booth says, "I make old things look new again."