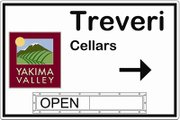 The hodge-podge of street signs alerting motorists to area wineries are confusing and most are illegal.
That's according to Yakima County transportation officials, who are in the process of planning new directional signs to promote winery tourism.
During their meeting this past Tuesday, Yakima County commissioners approved the first step in the sign process by authorizing officials to advertise for bids to purchase posts and mounting brackets for the signs.
Kent McHenry is the transportation engineering manager for Yakima County, and he says the county plans to eventually erect signs at 35 locations around the county to promote winery and ag tourism.
He says the signs will solve two issues with the winery signs currently posted.
"We have a two-fold problem," McHenry said. "People are having difficulty finding the wineries and about 80 percent of the wineries don't meet the state criteria for tourist-oriented signs."
He says most wineries don't meet the criteria because under state law tourism designated locations have to be open 12 months a year, 40 hours a week. "The majority of wineries aren't open year-round," McHenry noted.
So instead, Yakima County will put up signs. They will not only point the way to the wineries, but also indicate how many miles away the wineries are.
McHenry says the overall cost for the project will be in the range of $125,000 to $150,000 and will be funded through the county's Supporting Investments in Economic Diversification (SIED) fund that targets projects for economic development.
He said there will be directional signs for all the wineries in the county except for those open only by appointment. "We don't want to direct people to wineries that are closed," he said.
The signs posted around the county, McHenry adds, will also serve as a winery trail, with the Yakima Valley tourism logo included at the top of each sign.
Looking ahead, he said a second round of bidding will take place next year for manufacturing and installing the signs.
"We wanted to do two separate bid processes because if we have one big contract some of our local manufacturers won't be able to submit a bid," McHenry said.
The new winery signs should be installed and start appearing on local roadways by the end of February or early March 2012, McHenry said.