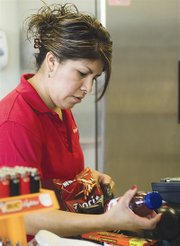 Alicia Aguilar has lived in Sunnyside all her life, and she wouldn't have it any other way.
For the past three years the SHS graduate has worked at the local Smitty's Conoco gas station as its manager.
Working in and near Sunnyside most of her adult life has meant a great deal to her being near her family.
"I like (Sunnyside) and I'm close to my family," she added.
She says the best part about her current job is the constant changing environment.
"I like not having the same schedule and I get to do different things every day," she said.
Previously working for a gas station in the area, Aguilar was offered a manager position at the business.
She says her ability and willingness to learn has taken her this far in her career as a current store manager.
The constant changing atmosphere has Aguilar learning new skills every day. Learning more each day at her job rekindled a desire for higher education.
"I eventually want to go to college," she added. "But I don't know when or what for yet."
The Sunnyside native knows wherever she ends up; she wants a job much like her current position.
"I will always want a job where I will be doing something new every day," she said.