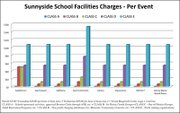 All groups using Sunnyside School District buildings for events now have a standard set of rates that will be applied according to the type of group.
The Sunnyside School Board set the rental rates at the regularly scheduled monthly meeting this past Tuesday evening after several discussions about rates in past meetings. The new rates apply to the buildings only. The board decided to consider permit fees or rates for the use of outdoor facilities at a future meeting.
The rates issue was raised when a group complained that some organizations were getting preferential treatment with regards to rates. The complaint led to an audit of the rate schedule. The new fees are the result of the audit and take into account how much it costs the district for lights, power or heat and for clean-up. The board was told that the district does not make any profits for facility rentals.
During the discussion of the new rates, Director Michelle Perry asked about rates for outdoor venues in the district. Superintendent Dr. Rick Cole discussed the issues in setting field rates, including policing the fields and required signage.
Cole said current policy requires groups to get a permit, and most organizations comply with the rules. But because of the difficulty of policing all the fields in the district, some groups slip through the cracks, causing liability issues for the district.
Director Lorenzo Garza urged caution with regards to field charges. His worry was that the district might cause more problems than it solves by imposing new fees.
The board decided to approve the building rates and asked for a review of field rates for discussion at a future meeting.