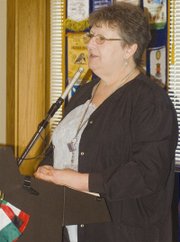 Cathleen Fierro, certified diabetes educator, didn't mean to focus her talk to the Sunnyside Noon Rotary Club on diabetes screening, but it was clearly a topic of interest to the group.
Fierro started her talk on Monday afternoon with statistics, including the sobering fact that 10 percent of the population in the Lower Yakima Valley has been diagnosed with diabetes, the highest rate in the state. No one knows how many more have diabetes but have not been diagnosed. Three years ago, the rate was only 7 percent.
When a Rotarian asked why the rates are increasing, Fierro stated that nationally the increase is due to the lifestyle of Americans. "When other countries start to adopt our lifestyle, their rates of diabetes go way up," she said.
Americans' reliance on processed food and lack of exercise are big factors, according to Fierro. "Look at ramen next time you visit the store. It's all sugar and salt. One block will have your entire daily intake of salt in it."
The Rotarians had a lot of questions for Fierro. One question was what diabetes is, exactly. Fierro answered that diabetes is when the human body no longer can process certain sugars as food. Those sugars stay in the bloodstream and cause lots of problems.
Fierro was also asked about the types of diabetes, and gave an overview. Roughly speaking, Type 1 Diabetes is genetic while Type 2 Diabetes is usually caused by lifestyle. She pointed out that diabetes is not always genetic, a misconception that has made it difficult to convince some people that they are at risk and should be tested.
"If you are over 40, you should be tested," said Fierro. "Ask for the Hemoglobin A1c test." She said to not assume that doctors will run the test automatically. "Make sure you ask for the test," she emphasized.
She also gave the warning signs for diabetes. "If you are very tired after eating the lunch we just had, you maybe should get tested," she said. "But then, it might also just be that you need an afternoon nap."
Other symptoms to watch for include being thirsty all the time, needing to get up repeatedly during the night to use the bathroom, wounds that are slow to heal or blurred vision. Anyone with any of the symptoms, regardless of age, should be tested. "My youngest Type 2 diabetes patient is 10 years old," said Fierro.
Many people with diabetes have no symptoms, but the complications will eventually catch up with them.
Asked how to prevent diabetes, Fierro had a long list. The first was to lose weight. "Even dropping five pounds can dramatically decrease your risk factor," she said.
Exercising at least 30 minutes five times a week can help. Also decrease the amount of processed food in your diet, moving to more natural foods, including lots of fruits and vegetables.
A Rotarian pointed out that reading the serving sizes on food can also help. Many times, it was noted, people eat far more than they need.
Fierro emphasized that getting a diagnosis of diabetes is not the end of the world. "I have diabetes," she said, along with most of her family. "Only one family member has died from diabetes related complications. The rest of us are living long and happy lives."
By contrast, a diagnosis of pre-diabetes is an opportunity to avoid the full onset of the disease. "You can start to live healthy and never have to deal with it," she said.
Fierro wanted the group to consider the impact of budget cuts currently being considered by state legislators on diabetes education and treatment. She listed the population groups most likely to suffer from diabetes, pointing out that those groups match up with the population in the valley. "What's going to happen to our community?" she asked.
As a certified diabetic educator, she helps more than 250 people a year deal with diabetes.
Anyone with questions about diabetes can call her at 509-837-1322 or visit her office at 817 Franklin St.