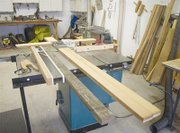 When Mary Arthur started looking for a craftsman to create and build a new cross for her facility's chapel, the name Schilperoort came up.
Arthur is the administrator of Hillcrest Manor, soon to be renamed Eagle Rehabilitation at Sunnyside. The facility has been undergoing major renovations this year. The renovations include a new chapel with more space.
"The residents like to go to services," said Arthur. "We needed more room."
A staff member suggested Tyler Schilperoort for creating the cross for the new chapel. And with Schilperoort came his entire family.
His son Reid designed the cross with input from Kristine, Reid's mother and Tyler's wife. Daughter Claire will be helping with the construction of the cross.
The wood for the cross is a piece of Yakima Valley history. Tyler Schilperoort took the wood from staves of a barrel his father recovered from A.F. Murch in Grandview.
"The barrel was 12 feet tall with an eight foot diameter," said Schilperoort. "It was from the early 1900s, an old piece of history."
Though the raw staves didn't look impressive, a little sanding showed they were virgin oak with a fine grain.
Star Manufacturing is providing a brushed stainless steel cross to go in the center of the final product. The cross will be assembled at the Schilperoort home.
"We plan to finish the cross by Christmas," said Schilperoort. "We hope to install it in the chapel by Christmas, but it will definitely be installed by January 15th."
Arthur is delighted with the efforts of the Schilperoort family.
"We wanted to keep it simple so many denominations could meet in the chapel," she said. "We have a lot of people who come through here during rehabilitation, we wanted something that would work for everyone."