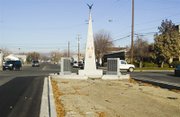 An ongoing project to develop the Jerry Taylor Veterans Memorial Plaza at the corner of Ninth Street and Edison Avenue in Sunnyside hit a snag last month.
It resulted in road and curb improvements that set the stage for more progress next spring at the plaza, named for Jerry Taylor, a deceased Sunnyside veteran, city council member, mayor and advocate for veterans.
Greg Schlieve is a local veteran and is spearheading the plaza project along with the VFW. He said the group was ready to pour concrete at the site when it was discovered the southbound lane on Ninth Street has a dip in it and that curbing was aged and falling apart.
Schlieve said the group realized the plaza would be compromised if the dip and old curbing were left in place.
As a result, the group had to foot the bill to fix the roadway and pour new curbs at the site. The work was completed just before Thanksgiving during a warm and dry break in the weather.
"We bit the bullet to make sure we did it right from the beginning," said Schlieve. He said he doesn't yet know the total cost for the work, but praised contractors O.L. Luther, Central Pre-Mix and Mastercraft for the work they did at a discount for the non-profit group.
Schlieve said the city didn't help with the cost of the project, but praised public works employee Kevin Roberts for his time in cutting the asphalt to help get the road repairs started.
With new paving and curbing in place, Schlieve says the only thing to wait for now is for the weather to warm up. He says that next spring sidewalks will be poured at the memorial plaza and the site will be wired for electricity. In addition, two flag poles will be erected at the site.
That all will set the stage for next May, when Schlieve anticipates a granite marker bearing the names of local veterans will be placed at the site. It will be one of several markers to be erected at the plaza to honor current and former veterans.
For more information about the plaza project, to help out, or to purchase a plaque for a veteran, contact Schlieve at 882-4498.