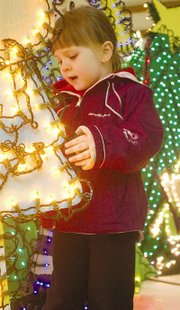 Though his seat in the sleigh may be empty this year, the spirit of the man who occupied it lives on.
Don Schab was his happiest when he was bringing a smile to a child's face.
In 2004 the Schab family, residing in Benton City, began participating in Sunnyside's annual Lighted Farm Implement Parade. They began with a simple lighted tractor, and over the years have become more elaborate in their displays, adding something new each year.
Schab happily volunteered to dress in the Santa Claus suit each year to bring joy to the children of Sunnyside with the lead tractor dressed as Rudolph the Red-nosed reindeer. It was truly his pride and joy, says his wife Cindy, and somehow it brought him peace to know he was bringing joy to others.
Then the unthinkable happened; he was diagnosed with cancer.
When chemotherapy wore the farmer down, he wasn't able to stand in the 2008 parade.
"He still had the spirit, he just didn't have the strength," a teary eyed Cindy Schab said.
He refused to miss a parade, no matter his condition. So Santa's sleigh was added to the display, giving the jolly fellow a place to sit and wave to parade onlookers.
"It didn't matter how cold it was, or whether it was snowing, he had the twinkle in his eye," the float's Mrs. Claus and a close family friend, Lori Moffett said.
During the fight against cancer, Schab showed up at a chemotherapy session dressed in his Santa Claus suit.
"He wanted to dress up for his nurses," daughter Jennille Schab said.
While sitting jolly in his chemo room, down the hall he heard a child who was admitted to the pediatric ward of the hospital and nurses were trying to administer treatment. Schab stepped to the forefront.
"It was really sweet, (the) child got a personal visit from Santa in the hospital," she added. "He had such a kind and gentle spirit."
After nearly two years of fighting off cancer, in March of this year the 59-year-old succumbed to the disease, leaving behind memories of his cheerful personality and love for life.
But as his family prepares for the 2011 Lighted Farm Implement Parade, Don Schab will still be there in spirit. This year the float will be adorned with angels.
"For my brother," Ed Schab said with tears in his eyes.
The display is more than 60 square feet with nearly 14,000 lights. The family has worked endless hours; most decorations are hand-made.
This coming Saturday the Schab family will press on, holding Don Schab's memory close to heart knowing he is proud of the work they've done to keep smiles on the faces of children attending the Sunnyside parade.
"I know he's smiling," said his wife.