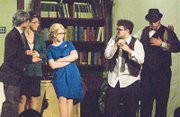 GRANDVIEW - The first thing to remember about Harvey is that you will never see the title character, even when he is on stage, but he has a huge impact on everything that happens.
The story of a man's apparently imaginary friend is a comedy of errors, a look at how people perceive mental illness and even a romance. The production by the Grandview High School Drama Club relies heavily on the inherent quality of the script to deliver a good show.
Sawyer Schilperoort excels as Elwood P. Dowd, a generous and kind man who is oblivious to the frustration his friend Harvey is causing to those around him. He seemed to light up the stage when he was in the spotlights.
Kateland Hurst lends just the right amount of intensity to Veta Louise Simmons, a character with a lot of stage time. Hurst practically carried the play with her strong performance.
Milagro Castilleja did a good job with the part of egotistical doctor William Chumley, particularly when he returned to the action after meeting the title character.
A surprisingly outstanding performance was also delivered by Jacob Ziegler, who took a fairly small part and played it to the hilt. His interactions with Schilperoort in particular were fun to watch.
The play ran just over two hours, with an intermission between the first and second acts. The action started very slow, with some actors having trouble getting into their roles. There were a few missed and misdelivered lines, particularly in the first act.
The venue was the worst actor in the play. While the stage settings were fine, the lights were misaligned and, unless seated, the actor's face was in the dark. The building also contributed strange noises twice during the play. To the actors' credit, they carried on without pause while a technician handled the problems quietly in the back of the gym.
After the first act, the players warmed up and the laughs started coming from the audience. By the third and final act, the whole cast was delivering stronger performances and the play ended on a high note.
Harvey is playing at Smith Elementary School in Grandview tonight (Friday, Dec. 2) and tomorrow night starting at 7 p.m. Admission is $6 for adults and $3 for students.