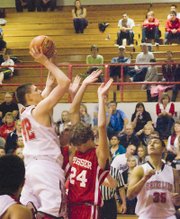 Strong defense and solid rebounding were an unbeatable one-two punch for the Sunnyside Grizzly boys basketball team this past weekend in a pair of victories.
The Grizzlies held off host Eisenhower this past Friday in the season opener, using a 19-11 third quarter surge to prevail 67-60. Sunnyside and Ike were tied 30-30 at the half as Sunnyside couldn't hit from three-point land, going 0-for-12 in the first two stanzas.
"I don't think we were prepared for Ike's new coaching staff and new energy," said Grizzly Assistant Coach Ruben Fernandez. ""They had a pretty-good sized crowed and we weren't expecting them to come out with so much emotion."
Sunnyside righted the ship in the third frame, though, as Israel Manzo canned a pair of clutch treys to spark the 19-11 run. That set up a fourth quarter which Sunnyside could have used to ice the game at the free throw line, but instead mustered just 10-of-19 shooting from the charity stripe in the final quarter. "It would have made things a lot easier if we would have made more free throws," said Fernandez. "We're going to have to to work on our free throw shooting."
While Sunnyside's defense kept the Cadets in check, Sunnyside's offense relied on outboarding the hosts 42-26. Though a cold shooting night overall for the Grizzlies, hitting at a 26 percent clip, Sunnyside was able to come up with 23 offensive rebounds for putbacks or to draw fouls. For the game the Grizzlies attempted 45 free throws and made 27.
Manzo paced Sunnyside with 25 points, 16 in the second half, while teammate Greg Spini added 16 points to go with six rebounds. Brandon Daley added four points for Sunnyside, along with nine rebounds, two assists, a blocked shot and two steals. "He came up big defensively and on the boards," Fernandez said of Daley. Eric Amaro and Eduardo Salmeron added seven points each for the Grizzlies.
On Saturday the Grizzlies started with a much hotter shooting hand, blitzing to a 29-13 lead after one quarter on the way to a 68-43 pasting of visiting Prosser. "We came out in a press and were able to create some turnovers," said Fernandez.
Seven different players got in on the hot start for Sunnyside by getting on the scoreboard in the first quarter. From there Sunnyside was never seriously challenged by the Mustangs, playing their season opener after just five practices because of the football playoffs.
For the game, Sunnyside defenders swiped 14 steals, led by Jessie Leija with five steals to go with seven points and two assists. The steals led to a transition game that helped the Grizzlies to 44 percent shooting from the field Saturday night.
Manzo led Sunnyside with 22 points, five rebounds, four assists and two steals. Spini added nine points and five rebounds. Trey Serl scored five points to go with three steals and four assists, while Salmeron collected six points, five rebounds and two steals.
One of the highlights for Sunnyside during the two-game sweep was 37 points off the bench in the two games combined, paced by Salmeron with 13 points.
"We're fortunate to have a lot of kids who have played a lot of games," said Fernandez. "We have a strong core of juniors and we have senior leadership."
He says the opening weekend couldn't have gone any better.
"We're really excited," Fernandez said. "Our kids came out and played really good defense. We're really proud of our kids."
Sunnyside will hope to make it a 3-0 start to the season when it plays at Lower Valley rival Grandview tomorrow, Tuesday.