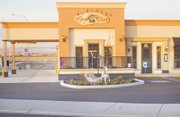 Throughout the winter season family sicknesses tend to increase, electricity bills rise and other expenses accumulate.
The Green Olive Café in Sunnyside is collecting non-perishable food items for those in the local community who need a little extra help during this winter season.
During the month of December customers who bring a minimum donation of two non-perishable food items to the restaurant, located at 2926 Covey Lane near the Best Western Plus Grapevine Inn in Sunnyside, will have the chance to win prizes.
Donors will be allowed to draw from a Christmas box that contains prizes, such as $10 and $5 gift cards and free dessert and appetizer coupons along with other prizes.
Donations will be accepted during regular working hours, which are Monday through Wednesday from 7:30 a.m. to 7 p.m., Thursday through Saturday from 7:30 a.m. to 9 p.m. and on Sunday from 10 a.m. to 2 p.m. each week.
All items collected at the Green Olive Café will be taken to local food banks for distribution in the Sunnyside community.
For the food drive, the Green Olive will accept canned foods such as soup, beans, fruits, vegetables, meats and peanut butter; dried foods including cereal, oatmeal, crackers, granola bars, rice, pasta, fruit and beans; and bottled juices.
For more information on the food drive contact the staff at the Green Olive Café at (509) 837-9009.