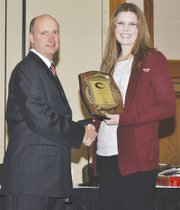 ST. LOUIS - Randi Krieg, agricultural educator for the Mabton School District, is one of 36 individuals nationwide who received a "Teachers Turn the Key Award," given on Nov. 19, at the National Association of Agricultural Educators annual convention held in St. Louis.
"The Teachers Turn the Key Award" program is a scholarship to allow early-career agricultural educators to attend the annual convention, giving them an opportunity to become involved with their professional association on a national level. Participants take part in special programming geared toward agricultural educators in the early stages of their careers.
Krieg has been an agriculture teacher at Mabton since 2009. With Mabton's diverse agricultural production operations, Krieg has built a program that offers courses reflecting local agriculture. It is her belief that differentiated instruction with a strong emphasis on experiential learning is essential to her students' success in learning.
Krieg teaches nearly 190 students and works to provide optimal opportunities for all learners to apply and relate their knowledge. One such opportunity was through her landscaping class in which students analyzed safety hazards in the community, reported their findings to the school district and devised a renovation plan to remove the hazards. Krieg effectively incorporates career development events throughout her curriculum and develops supervised agricultural experience projects using her school's facilities, allowing all students to stay involved in the local FFA chapter and motivated to learn about agriculture.
"I have had the luxury to work with several agriculture teachers and FFA advisors over the years but have never had the honor to be associated with such a caring, empathetic and supportive individual that truly helps each student achieve their personal goals," said Mabton School District Career and Technical Education Director Michael Surmeyer,.
Each of the award winners received a plaque and a scholarship to cover convention registration, travel expenses and housing during the convention held in St. Louis last month.