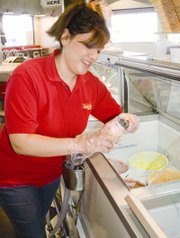 Santa isn't the only one with helpers this Christmas season.
Mrs. Claus has her worker bees, too, and one of them happens to be Marissa Aguilar at the Dairy Fair in Sunnyside.
Aguilar was one of the Dairy Fair employees who baked 1,200 cookies for the cookie decorating event with Mrs. Claus this past Saturday.
Aguilar, a customer service supervisor at the store, estimated 700 children joined Mrs. Claus for cookie decorating.
She says kids flock to the Dairy Fair throughout the year, not just during the holiday season.
"I love to see the kids come in here and get ice cream," Aguilar smiles.
The Grandview resident has been with the Dairy Fair since she graduated from Grandview High School in 2005. She was promoted to a supervisory role about a year after starting work at the store.
It's a change that she says requires more responsibility.
"I've enjoyed it. It's taught me a lot about organization," Aguilar says. "I had to learn how to delegate instead of doing everything myself."
The job keeps her busy from start to finish each day, whether it's slicing fresh meat and veggies in the morning or balancing out the tills at night.
In between there are other responsibilities, such as helping put away freight in the back of the store and helping the staff stay productive.
She says the favorite part of her job is interacting with customers and her co-workers. "It feels like family here," Aguilar smiled.
Of all the responsibilities Aguilar and Dairy Fair employees are known for, perhaps the biggest is that ice cream.
She says maple nut and chocolate peanut butter are the crowd favorites.
"We have to keep the maple nut stocked or they'll go crazy if we don't," Aguilar laughed.
Her personal favorite is Moose Tracks, which features vanilla ice cream with peanut butter cups and chunks of chocolate.
In all of her roles at the Dairy Fair, Aguilar says job one is every customer who walks in the door, including the kids hankering for a cookie or ice cream.
"I want to put a smile on everyone's face and make sure they have a good experience," Aguilar said. "I want to make sure everyone leaves happy."