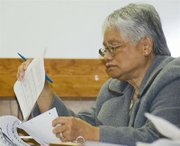 MABTON - The Mabton City Council could have next year's budget nailed down in three weeks, on Dec. 27.
Council members reviewed Mabton's preliminary budget at this past Tuesday night's budget workshop. The plan, according to Mayor Angel Reyna, is to have concrete numbers pinpointed by next week's city council meeting on Tuesday, Dec. 13. If all goes according to plan, the following week at a scheduled budget hearing on Tuesday, Dec. 20, the council will make final revisions to the 2012 budget and hope to vote the budget into adoption at the final council meeting of the year on Tuesday, Dec. 27.
The budget process began with the council identifying a mission statement and clear goals the council and city officials would like to complete in the next year.
From there, city officials were asked to submit requests that they wished to see happen, along with the costs associated, within their departments.
Now that the council has all the pieces of the puzzle, they are going to hit the budget hard next week with cuts and revisions. With current request costs and expenditures, the budget looks grim, but council members say not to worry, it's just the preliminary budget.
According to the preliminary 2012 budget report, the city of Mabton has nearly $80,000 more in expenditures in the budget than revenues are bringing in.
Next week, according to Reyna, the council will work to cut costs and "get creative" with expenditures.
"We might increase the water (rates) by $3," he said.
In addition, cost cutting ideas include possibly providing agenda packets and council paperwork electronically, among others.
"That will cut down on paper and ink costs," Councilman Mario Martinez said.
The city council hopes to have a more detailed budget with "concrete" numbers next week at its regular meeting Tuesday, Dec. 13.