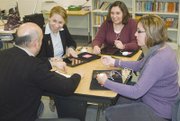 Christmas is coming early to the classrooms of three Lower Valley teachers.
Ten teachers at elementary schools in the Grandview, Sunnyside and Yakima school districts will receive an iPad 2 that will be used to enhance their instruction of visual arts and other core academic subjects.
Sunnyside's Pioneer Elementary School teachers awarded the device include Rebecca Pezzullo, a second grade teacher, and Araceli Chavez, a fifth grade teacher. In addition, Amy Davis, a teacher at Harriet Thompson Elementary School in Grandview also received the device. The three received the devices this past Tuesday, Dec. 6.
The gadgets are funded through a Professional Development for Arts Educators grant obtained by the ArtFusion program of Educational Service District 105.
The devices given to teachers are part of the ESD 105 "Art Integration Mentors" project and will give elementary school students hands-on opportunities to understand visual arts principles and elements. In addition, the devices will also help students use art in their learning of other core academic subjects such as science, reading and math.
All of the participating teachers have received training at ESD 105 in strategies to integrate art lessons into other subjects. Through this method, students are able to meet state learning standards in both art and other academic areas at the same time.
The 10 teachers given an iPad 2 will first provide instruction in helping students master the concepts of visual arts skills, and then will show students how to use an "ArtStudio" application to further demonstrate skills on the iPad.
"Technology for students is a part of their life," said ESD 105 Regional Arts Education coordinator Aurelio Garcia. "They are part of the digital age. These iPads are going to help meet them where they're at."