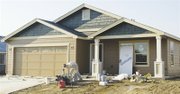 Nearly half of the 29 new projects issued permits in Sunnyside last month were for new roofs.
There were 14 roofing projects greenlighted here in November with a combined valuation of nearly $170,000.
Six of the new roofs were for residential buildings operated by the Sunnyside Housing Authority. They had a combined valuation of about $65,000 and were for housing developments the agency runs on North Avenue, Rouse Road and Bagley Drive.
The single highest valued roofing project given the go-ahead in November was for the Sunnyside Library at an estimated valuation of $43,029.
There was one new housing start given the thumbs up by city staff last month, a one-story home valued at $151,131 at 1621 S. 13 St.
The home, part of Aho Construction's Harvest Village development, resulted in $2,124 in fees paid to the city of Sunnyside.
Overall, the 29 projects permitted last month had a combined valuation of $377,424 and generated $6,703 in fees for Sunnyside city coffers.
The total valuation of Sunnyside's new building starts in November was more than four times higher than October's, which was only $93,198.
In other good news for the city of Sunnyside, one of the re-roofs last month was for a commercial building at 61 E. Allen Rd.
In addition, there were four other commercial-related construction projects that began in Sunnyside during the month of November with a combined valuation of $24,000.
One involved improvements by Verizon at 2680 E. Yakima Valley Highway #G.
Another commercial-related project last month was the addition of a partition wall in the dining area of the China Grove restaurant at 3210 Picard Place.
Also last month, Sunnyside greenlighted the placement of a portable commercial office at 206 N. First St., as well as exterior rock siding at Home Stretch Espresso at 2890 Allen Rd.