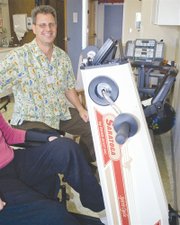 For approximately 25 years Jerry Poff has helped Lower Valley community members regain their health and mobility through physical therapy.
He attended college with the intention of seeking a chemical engineering degree, but the classes didn't hold his interest.
Poff said he enjoyed the sciences and his sister mentioned physical therapy as a possible career choice.
"I found I enjoyed that type of science better than engineering," he said, stating he had to learn about the anatomy of a person and how particular exercises can help restore a person's mobility.
Poff worked as an aide to longtime Sunnyside physical therapist Don Parsons and after obtaining his own degree, served community members seeking services at Parsons' office.
Poff eventually ventured out on his own, but now serves patients at Hillcrest Manor and Rehabilitation Center. He said he has to be persistent, yet gentle with patients.
"They aren't always happy with me in the beginning," said Poff, stating patients suffering an injury or illness don't relish the hard work that is involved with physical therapy.
He said some aren't ready for intense therapy and he must cater it to their particular needs, sometimes easing a patient into the work involved in helping them move more freely.
"Working with people is rewarding," Poff said, stating not all patients regain complete mobility. However, seeing them out of a wheelchair, walking with assistance, can in and of itself bring some satisfaction.
"I have to assess their needs and develop a plan that will help them meet their goals," said Poff.
He said the goals are all personal for the patients themselves. It is his job to discern how to best meet the goals and the timeline for meeting them.
Poff must do a lot of hand holding, encouraging patients to persevere. "I do a lot of back patting," he said.
There are a number of ways to help patients regain the use of body parts that have suffered due to illness or injury. Some complete exercises without equipment and others must use equipment.
Poff said he must be knowledgeable about the various pieces of rehabilitative equipment used by the patients.
"It's about restoring mobility and function targeted to a specific injury or illness," he said.