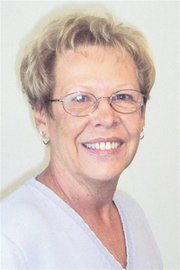 GRANDVIEW - Colleen Byam, a Port of Grandview commissioner and friend to many, has died.
The community is reeling with the news of her passing yesterday morning. Many say she will be sorely missed.
Ron Grow, a fellow port commissioner and Byam's dentist, said he saw her as a booster for the community.
"She was a marvelous asset to the city," he said, stating Byam was relentless about promoting the community.
Grow first knew Byam as a patient, but worked closely together with her, helping bring businesses to the community.
Byam, he said, has served the Port of Grandview since it was formed in 1987.
"She was liked by everyone she met, taking them in like family. The Byams also hosted numerous exchange students over the years," noted Grow.
Last year, during a ribbon cutting ceremony for a new business in Grandview, Driscoll's Chairman and CEO Miles Rider referred to Byam as the "Port Queen."
In 2004, when Byam and her husband Dennis were recognized by the Grandview Chamber of Commerce for contributing to the community's economic development, it was said the couple was integral in serving the interests of Grandview.
Grandview Mayor Norm Childress knew Byam as a peer and as a friend.
"She was excited about Grandview even before serving the Port of Grandview," he said.
He said Byam's loss will be felt by many. "It's a terrible loss and she'll be badly missed."
Childress said Byam was an advocate for the community and he enjoyed her enthusiasm for its future.
As a commissioner for the port, Byam helped the city attract businesses like the Wal-Mart Distribution Center, Columbia River Steel, Dion Trailer and the Olson Bros. blueberry packing plant.
She worked with New Vision to attract businesses to the community and helped secure Supporting Investment in Economic Diversity (SIED) funds for the workforce education center at Yakima Valley Community College's Grandview campus.
Last month Byam was re-elected to serve as a commissioner for the Port of Grandview. Her seat will remain vacant until an appointment to the seat is made. The individual appointed would hold the seat until a special election is held in 2013.