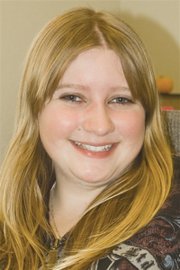 At only 17 years of age, Christeen Woods has a lot to say.
And to say it, she's decided to self-publish a book of her poetry as her senior project.
The Sunnyside High School senior has been writing poetry since she was in sixth grade, and has around 130 poems written. She has been working on learning more about poetry and wants to attend an Allied Arts open mic night in Yakima to share her poems.
Woods thinks her poetry has been inspired by traumatic events in her life. When she was five years old, her father went to prison. She recalls the difficulty of being involved in his trial.
"I remember being asked if I wanted to see him," said Woods. "I said 'no'."
Her poetry was filled with depression and anger from those events. She recalled performing a poem for her class, and putting all the anger into her voice as she spoke.
"They said they were scared of me," she said. "No one had ever seen me angry before."
Starting in eighth grade, she got what she described as serious therapy that helped stabilize her emotions. Meeting her today, a person would be forgiven for doubting she was ever anything but cheerful.
Woods also credits family friends for helping her. She met Ann Bardell in seventh grade at Bible study and the two have become close. Woods also says the Hicks family has helped her, with Craig Hicks becoming something of a father figure to her.
She is also known as a hard worker. She holds down two jobs and keeps a busy schedule.
Woods plans to attend college, and has applied at Seattle Pacific University, although her ideal school would be Central Washington University.
For her project, she has selected nearly 50 poems to include in her book. A friend who graduated last year and is now attending the Art Institute of Seattle, Brigitte Diaz, is working on a cover.
The poems are typed up and undergoing revisions now to get them ready for publication.
Here is a sneak peek:
What is a home?
My home I live in, are you my shelter?
Some say home is where you can be yourself.
I would rather agree to disagree.
My home I live in, are you my safe haven?
Some say home is the judgment free zone of life.
I know that's a lie, I would prefer no strife.
My home I live in, are you my only refuge?
Some say home is a place to call your own.
Although amongst so many people, you're alone.
My home I live in, are you my soothing dwelling place?
Some say home is the place you're loved despite all the straits.
Yet among all these definitions, what is a home?