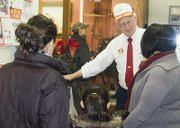 The Sunnyside Museum held its annual holiday open house this past Saturday, Dec. 10, throwing open the doors to anyone who wanted to stop by and enjoy food and company among the museum's exhibits.
Along with food and music were people willing to explain the displays and exhibits at the museum, both new and old.
A new addition is the Titanic display that includes re-creations of the dinnerware on the Titanic along with a piece of coal salvaged from the wreck.
Also new on display is a set of nutcrackers owned by Judy Carrick, who said she receives a new one from her son every year.
Carvings by a 1953 Sunnyside High School graduate also have a place of pride in a display case. Joye Nelson hand carved a number of figures engaged in various activities.
George Johnson was on hand to show visitors the Carnation display, including photos of a young Johnson on his milk route.
The annual event, which drew a crowd this year of about 75 people, always is scheduled for the Saturday after the lighted farm implement parade.