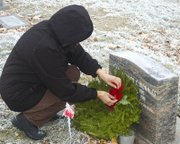 Ginger Emerson was expecting that the first year of participating in the Wreaths Across America in the Grandview Cemetery, they might get enough donations to lay 50 wreaths.
Early this past Saturday morning volunteers and the loved ones of veterans who have passed away laid more than 150 wreaths at the Grandview Cemetery. And Emerson says they have already got a few donations for next year's ceremony.
The Wreaths Across America program coordinates the laying of wreaths on the graves of veterans at Arlington National Cemetery and other cemeteries across the nation on the second Saturday in December. This was the first time the event has been held in the Lower Valley. It was sponsored by the Gold Star Mothers of Washington and Grandview's American Legion Post 57.
Wreaths can be purchased for next year's ceremony by contacting Emerson at 882-3801 or Bev Schliep at 882-3191.